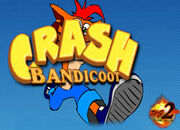 Crash Bandicoot Flash
is a arcade game for the computer and it shows the characteristics of Crash Bandicoot 2: Cortex Strikes Back. There are about 5 levels and 1 boss Ripper Roo. To play it go to Google and serach Crash Mundo then translate it, then go to mini games then it will show Crash Bandicoot Flash. Go play it for it's truly like Naughty Dog's Crash Bandicoot 2 game. The game's graphics is 2-D aminmation.
Ad blocker interference detected!
Wikia is a free-to-use site that makes money from advertising. We have a modified experience for viewers using ad blockers

Wikia is not accessible if you've made further modifications. Remove the custom ad blocker rule(s) and the page will load as expected.